New Delhi: Aam Aadmi Party (AAP) Rajya Sabha MP Raghav Chadha on Saturday changed his bio on X (formerly Twitter) to 'suspended MP' .
He changed the bio of his X handle, a day after he was suspended from Rajya Sabha.
Chadha, who has been accused by the BJP of forging the signatures of few MPs, was on Friday suspended from the Rajya Sabha by Chairman Jagdeep Dhankhar, on the last day of the Monsoon Session of Parliament.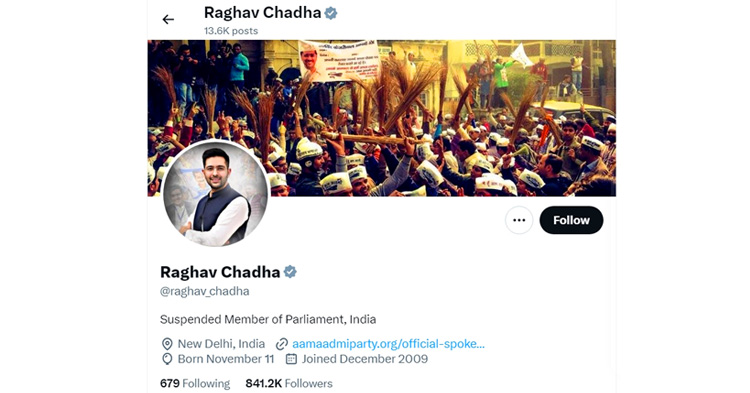 "I was suspended for asking tough questions that left the BJP, the world's largest party, without answers through my speech in Parliament on Delhi Service Bill. My crime was exposing BJP's double standards on Delhi's statehood," he said.
Taking a dig at the saffron party, Chadha said, "I showed them a mirror and held them accountable, which left them scarred. By suspending a MP based on false allegations, the government's actions unmistakably signal an alarming stance that reeks of being 'anti-youth' and undermines the very foundation of fair representation and democratic values."
Chadha on Friday also took to social media, while invoking martyr Bhagat Singh to tell the BJP that he came from the land of Shaheed-e-Azam Bhagat Singh and would not get cowed down by any such action and would fight the "injustice" tooth and nail.
In a three-minute video message, Chadha said the BJP was unable to stomach the fact that a 34-year-old was challenging the mighty and biggest political party of the world. He said they were trying to spoil his reputation as an MP by initiating a narrative that he had forged signatures, which was not the case.
Chadha was suspended for "breach of privilege" after few MPs alleged that he had violated rules by naming them in a House panel without their consent.
The Rajya Sabha passed a resolution moved by leader of the House Piyush Goyal to suspend Chadha till the privileges committee submits its findings. Goyal slammed the "unethical conduct" of the AAP leader, and called it an "outrageous disregard of the rules".
 (IANS)