Sundargarh: The state government has a mandate of 'Irrigated Farmlands, Empowered Farmers'. In line with this vision, the Integrated Tribal Development Agency (ITDA),  Sundargarh  has implemented several initiatives to improve the well-being of farmers. One of these initiatives involves the construction of farm ponds and ring wells on the land of farmers to facilitate irrigation. This has particularly benefited the tribal farmers in the region, enhancing their agricultural output and livelihoods.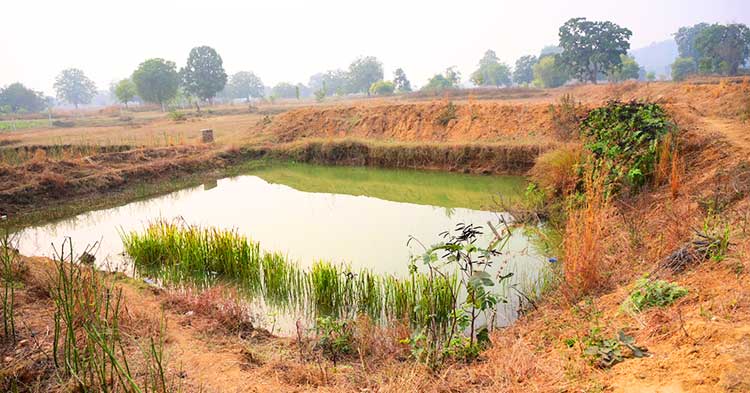 Sundargarh district is bound by hills and forests. The locals in the area engage in various types of cultivation but they are largely dependent on rainwater for irrigation purposes. As a result, irregular rainfall leads to a poor harvest. At such a time, the farm ponds and ring wells dug on farmers' lands have helped to ensure adequate water supply to the fields. The programme is operational in nine blocks of the district under the command area of ITDA Sundargarh.
"Various initiatives are being implemented by ITDA towards the welfare of tribal farmers. Irrigation is among the significant programmes undertaken by ITDA. The beneficiaries are identified under the Mahatma Gandhi National Rural Employment Guarantee Scheme (MGNREGS), and farm ponds and ring wells are dug in beneficiary land. Employment for local villagers is also generated through the creation of man days under MGNREGS", says Project Administrator, ITDA Sundargarh, Ramkrishna Gond.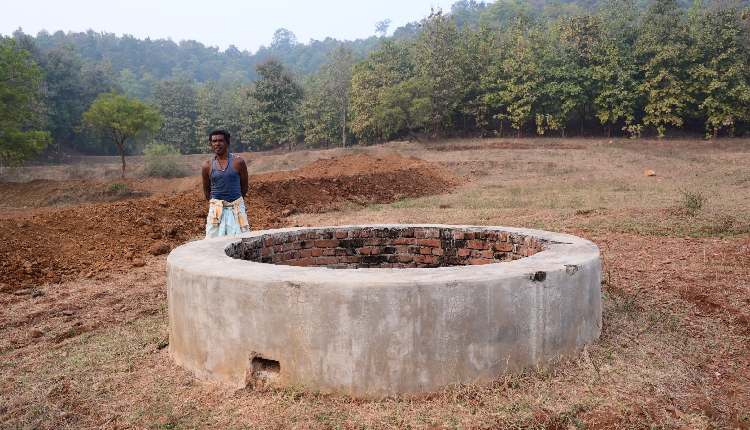 A total of 47 farm ponds have been dug between FY 2020-21 and FY 2022-23. Similarly, 85 ring wells have been dug in the same period. Farmers apply for farm ponds and ring well through the Gram Sabha. Once the proposal is passed by the Gram Sabha, ITDA officials visit the field to identify potential beneficiaries.
"Earlier, we were hugely dependent on rainwater for cultivation. But now, a farm pond has been dug in my field. This has greatly lessened our worries regarding cultivation. Using water from the pond, I can now cultivate various vegetables. I sell the produce in the local market and earn a decent income", shares Dileswar Pradhan, a farmer from Magarkunda village in Lephripara block.
"With the support of ITDA Sundargarh, I have dug a ring well in my farm. Now, I can easily fetch water for my fields from the well. My irrigation woes have been resolved now", says Chumki Naik, a woman farmer from Bhagapali village in Subdega block.
Sundargarh farmers engage in various types of vegetable and cash crop cultivation apart from food grains. The farm ponds and ring wells dug in their fields have largely benefited tribal farmers in the district. Additionally, the irrigation programme has also helped to check reducing groundwater levels while aiding in soil conservation.
It is worthwhile to mention that a flagship programme under 5T initiatives in the name of "Every willing Farmer can have a farm pond" has been operationalised in the State with a target of 5 Lakh Farm Ponds in 5 years (2019-20 to 2023-24) to mitigate the water scarcity during critical junctures and particularly to provide life-saving irrigation during Kharif. During last three years 1,01,740 Farm Ponds have been taken up.
Farm Pond Plus has been initiated towards multiplying Farmers' income through Integrated Farming System (IFS) activity in 35,000 completed Farm Ponds during 2022-23 through convergence with ongoing activities of Agriculture/Horticulture/Fishery/AH & VS Directorates.