Bhubaneswar: In a bid to foster healthy competition and promote development, Odisha Chief Minister Naveen Patnaik today announced that the Panchayati Raj Institution securing the top position at the national level will receive a prize six times the amount provided by the central government.
Similarly, the second-place winner will be awarded three times the amount, while the third-place winner will receive twice the amount, Patnaik added.
The Chief Minister made the announcement at a felicitation ceremony held at the Convention Centre of the Lok Seva Bhawan here today.
Emphasizing the need for healthy competition among Panchayati Raj institutions, the Chief Minister highlighted that other states have been seeking Odisha's expertise as its institutions have excelled and won awards. He stated that this competition will drive progress and development.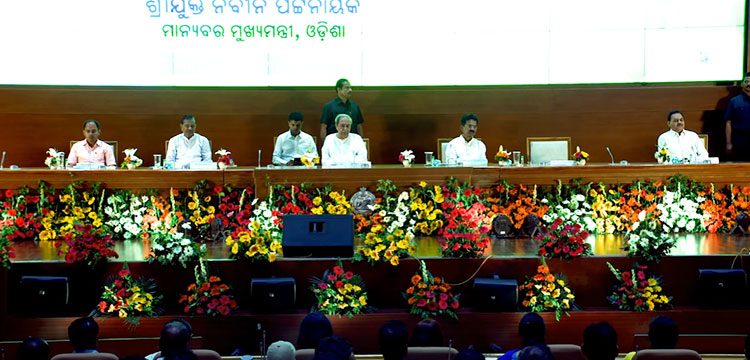 Under the new announcement, Ganjam District Council, which secured the first position nationwide, was awarded a prize of Rs 30 crore, and the first-place Hinjilicut panchayat received Rs 12 crore.
Additionally, Kanchuru Panchayat of Hinjilicut block, Kulada Panchayat of Bhanjanagar block, Sasan Ambgaon of Hinjilikatu block, and Ankuli Panchayat of Patrapur block, which secured the second position, were each awarded Rs 2.25 crore. The third-place winner, Boneigarh Panchayat of Sundergarh's Bonei Block, received a prize of Rs 1 crore. In total, Rs 52 crore was awarded to these seven Panchayati Raj institutions.
Congratulating the award-winning Panchayati Raj institutions, the Chief Minister addressed them as "Gaon Ra Sarkar" (Government of the Villages) and stressed the importance of maintaining the trust of the people.
During the event, the Chief Minister also made several new announcements to further enhance the success of Panchayat institutions. He revealed plans to establish 60 Panchayat Learning Centers, serving as knowledge resource centres for capacity building.
Furthermore, a Local Champion Training Program will be conducted by the State Rural Development and Panchayati Raj Institute to encourage healthy competition among Panchayats. To facilitate distance education, Satellite Interactive Terminals will be installed in 70 blocks of the scheduled area.
To bolster infrastructure, the State Institute for Rural Development and Panchayati Raj (SIRD & PR) will undergo significant improvements.
This includes a 300-bed hostel, a 250-seat conference room, and a satellite-based studio.
As part of the event, the Chief Minister launched the website of the Odisha Society for Social Audit, Accountability, and Transparency, as well as the 'Ama Panchayat Seva' portal. These platforms aim to enhance transparency and efficiency in the functioning of Panchayats.