Bhubaneswar: A Memorandum of Understanding (MoU) between Department of Water Resources, Odisha & IIT, Guwahati was signed today for "Physical and Mathematical River Modeling Study for Brahmani River Delta Rejuvenation".
The MoU was inked in the presence of Water Resources Minister Tukuni Sahu and Additional Chief Secretary Water Resources Anu Garg.
In a programme organised in the Department of Water Resources (DoWR) Bhakta Ranjan Mohanty, EIC, DoWR and Prof. Sibasish Dutta from IIT, Guwahati signed the MoU.
River Brahmani, the 2nd largest river of Odisha, forms after confluence of rivers Sankha & South Koel at Rourkela in Sundargarh district. Catchment contributed by Odisha (57%), Jharkhand (40%) and Chhatisgarh (3%).
This river flows through the districts: Sundargarh, Deogarh, Anugul, Dhenkanal, Cuttack, Jajpur & Kendrapara. At 130 km of the river a dam is constructed at Rengali & a barrage at Samal about 35.00 km downstream of Rengali Dam. The released water from Samal Barrage as well as that from intermediate catchment flows into the deltaic area at Pankapal. Then bifurcates into two arms: Brahmani to the right and Kharasuan to the left.
Two anicuts were constructed during British era on river Brahmani at Jenapur and on river Kharasuan at Jokadia.
At about 12 Km downstream of Jenapur, at Bedapur, the river Brahmani again bifurcates into two arms Brahmani on left and Kelua on right and reunites at Indupur.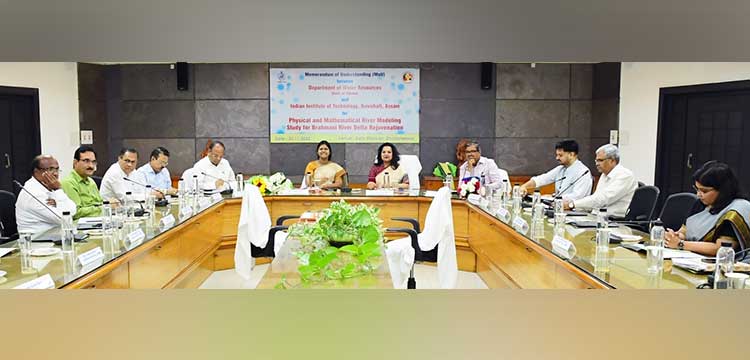 Finally, the river Kharasuan confluences with Brahmani at Madhusudanpur. The Brahmani joins the river Baitarani before falling into Bay of Bengal at Dhamra.
The river Kharsuan draws major chunk of flow as the bed of Brahmani at higher level compared to that of Kharsuan. This results continuous siltation and gets less or no flow even during medium flood as well as non monsoon period.
It has been proposed to ensure flows in both the rivers by taking of rejuvenation works through construction of Integrated ISS at Jenapur and Jokadia.
Model study is felt necessary prior to the construction of the structures for ascertaining any unseen technical aspects for proper functioning of the structures and proportionate distribution of flow to rejuvenate the river system.
Addressing the event of signing of MoU, Minister Sahu has said, this MoU signed today will help us for technical study in connection with construction of proposed ISSs in the rivers which will ultimately ensure water availability to the people of the area.
Development Commissioner-cum-ACS Garg in her address said, this is one of the important MoUs signed by the DoWR which will be helpful to study the siltation while taking steps for rejuvenation works through construction of Integrated ISS at the proposed sites of river.
Among others, EIC-cum-Spl. Secretaries and senior officers of DoWR were present on the occasion