Bhubaneswar: Odisha government will host a two-day International Convention on Millets on November 9 and 10 at Janta Maidan in the capital city. To organise the conference successfully, State Chief Secretary Pradeep Kumar Jena on Tuesday chaired a state-level steering committee meeting at Lok Seva Bhawan.
To promote the cultivation and consumption of millet across the state, Chief Minister Naveen Patnaik on November 10, 2022, declared to observe the day as Mandia Divas (Millet Day). According to the 'Odisha Millet Mission' policy, CM approved the plans for hosting International Millet Day on November 10, 2023. To boost the consumption and cultivation of millet, along with the support of several associates, the Odisha Govt will host the two-day conference, briefed Dr Aravinda Kumar Padhi, Principal Secretary, Agriculture & Farmers' Empowerment Department.
Further, at the meeting, Dr Padhee discussed various initiatives and programmes by the Odisha government for the mission, the blueprint for hosting the conference, and the motive behind it. He also discussed the participation of different associates.
The main objective of this conference is to promote millet's domestic use across the country and revive its consumption in rural and urban areas. Furthermore, the protection of bajra-cultivating land through seed system of landraces, promotion of post-harvest and primary processing enterprises, improvement productivity of millets –based crop systems, and incentives for the farmers will be the key points of discussion.
Chief Secy Jena also concentrated on focusing on the latest research in the field of millet production, farming practices, and value-added production, and ensuring that the conference must be held of international standard so that those could be practiced internationally.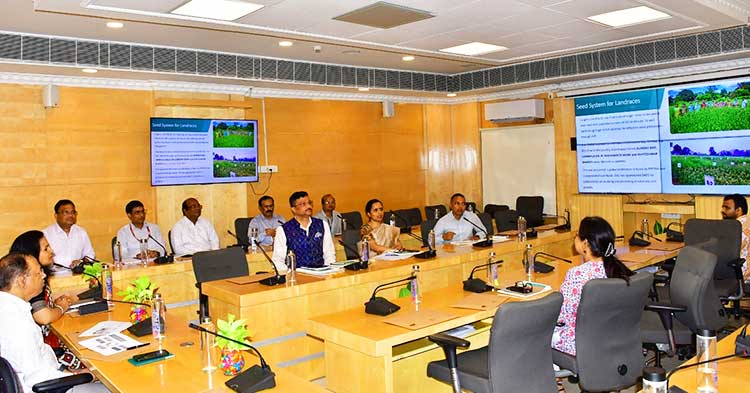 The convention will also encourage the marketing and export of millet-based products, including measures to include the use of millet food in the public distribution system, ICDS, mid-day meals, hostels, etc. The conference will help in linking millets with sports and incorporating millets in all sports hostels, engaging schools, hotels, hospitals, and celebrities in the use and promotion of millets, linking millets and green investments, and re-exploring investments in the Odisha Millet Mission.
Millet Shakti Cafes/Outlets have opened across major cities and district headquarters with value-added use of millet-based products through Mission Shakti SHGs. Breakfast and snacks are being served at the Millet Tiffin Centres within the block towns. At the district and city levels, mobile sales units are selling dry and value-added products.
Odisha Millets Mission has now expanded to 177 blocks covering 30 districts from 143 blocks in 19 districts. Odisha Cabinet chaired by CM Patnaik has approved the expansion of OMM from 2023-24 to 2026-27. Odisha has been awarded as best performing millet promotion State award at the National Convention on Nutri Cereals in 2021 and as best State for scaling up the millet mission in 2022 by the Ministry of Agriculture & FW (MoA&FW) and ICAR.
The international conference, to be organised in collaboration with various affiliates like FICCI along with multi-stakeholders will have two days of interactive sessions, G2B, and B2B meetings to discuss leadership and facilitation to promote Odisha Millet Mission and Millet Shakti. Through social media campaigns and strategic initiatives such as PR programmes, consumer demand for millets and value-added products produced in Odisha will be encouraged and developed.