Bhubaneswar: Odisha Chief Minister Naveen Patnaik on Sunday inaugurated the state-sponsored flight service between Bhubaneswar and Rangeilunda in Berhampur. The Chief Minister flagged off the maiden flight at the Biju Patnaik International Airport (BPIA) in the state capital.
The Government of Odisha has started the fully state-sponsored flight operation with a view to increasing air connectivity from the state capital to other cities and areas.
The service flight between Bhubaneswar and Rangeilunda will reduce the travel time between Temple City and Silk City by an hour. This flight service was a long-standing demand of the people of Berhampur.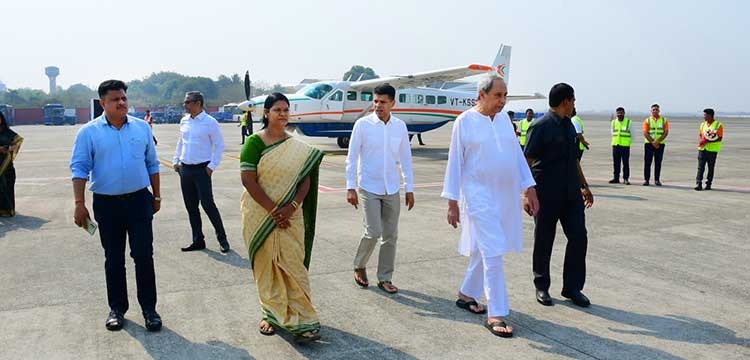 The non-scheduled filing service will be operated by IndiaOne Air using a nine-seater aircraft.
Earlier, the Rangeilunda airstrip was used on rare occasions for the arrival of dignitaries.
An official release said that the air connectivity with Rangeilunda will help attract tourists to Berhampur, which boasts of a number of tourist attractions like Chilika lake, Tampara lake, Gopalpur beach, the Rushikulya and Tara Tarini Temple. Moreover, senior medicos and professors of MKCG Medical College and Hospital, Berhampur University, IREL, IISER and businessmen from the city will be able to take advantage of the new sponsored non-scheduled flight service.
The Rangeilunda airstrip has been included in the Ministry of Civil Aviation's Udaan and Rural Connectivity scheme. The flights will be operated from the Rangeilunda airstrip in the first phase. In the second and third phases of expansion of the airstrip, air traffic will be given more importance, said State Commerce and Transport Principal Secretary Usha Padhee.