Bhubaneswar: The immersion ceremony of Durga idols of puja committees were held amid gradeur in the Twin City on Thursday, a day after Vijaya Dashami.
Total four artificial ponds have been dug on the banks of the Kuakhai and Daya rivers by Bhubaneswar Municipal Corporation (BMC) to facilitate the immersion of the idols.
Immersion processions were held from morning till night, in the Twin City. After immersion, the solid waste will be shifted to the dump yard and the liquid waste will be taken in cesspool vehicles to the sewage treatment plant, the BMC informed.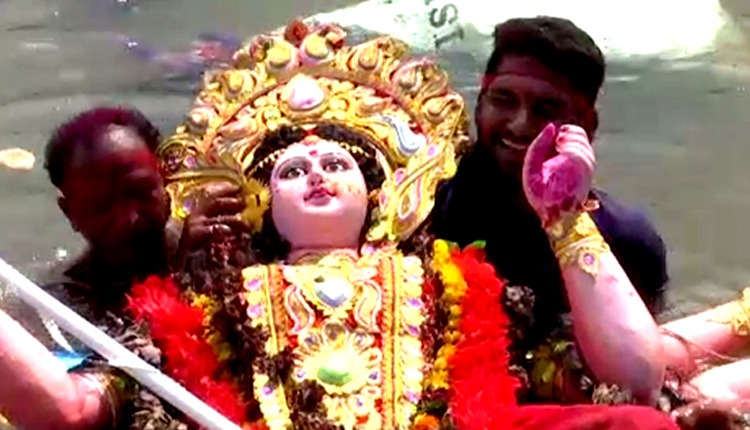 In the Capital City, a total 178 idols of Maa Durga idols were installed. People thronged the cities of Bhubaneswar to catch a glimpse of the puja processions lined up and moving with lights, decorations and music along the Capital streets.
A total of 17 platoons force was deployed in the city and immersion sites to control overcrowding, and prevent untoward incidents. Three committees looked after the smooth conduct of the immersion ceremony.
Three Additional Deputy Commissioners of Police supervised the arrangements, sources said. The Commissionerate police issued strict orders for the puja committees to keep the level of DJ sound within 65 decibels.
The Cuttack Municipal Corporation (CMC), on the other hand, has cleaned and beautified the road to Devigada. Artificial ponds have been dug at 3 places in the area for immersion of the idols. A total of 172 idols were immersed at Devi Gada.