Bhubaneswar: Dussehra is celebrated to commemorate the triumph of 'good over evil.'
On this day, Lord Rama defeated the ten-headed Ravan who abducted his wife Sita, according to Hindu mythology.
To commemorate the occasion, people on this day burn large effigies of Ravan, his brother Kumbhakaran and his son Meghanath which is called 'Ravan Dahan' in the northern part of the country and Ravan Podi in Odisha.
The five-day-long Durga Puja festival was celebrated with great pomp and show in Bhubaneswar culminating in Dussehra, after a gap of two years due to the Covid-19 pandemic which restricted public participation.
On the occasion of Dussehra, Ravan Podi was held at four places in Bhubaneswar-Baramunda, Jharpada, Koradakanta and Naharkanta.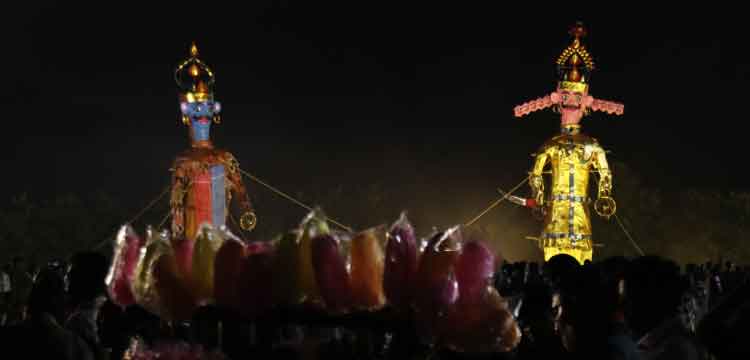 People in large numbers attended the spectacle at these places, while police had a tough time managing the traffic.
The Commissionerate Police had allowed the Durga Puja Committees of the aforementioned places to hold Ravan Podi after a thorough field inspection of the 28 guidelines issued by it which included a "no man's zone" of 100 metres from the effigies, purchase of crackers from licensed vendors, putting up of barricades for the safety of the spectators, etc.
The Commissionerate Police deployed five platoons of policemen for Ravan Podi in Bhubaneswar.