Bhubaneswar: Sundargarh claimed the first Championship title of the Hockey Association of Odisha Junior Men Hockey Championships 2022 by beating Deogarh 1-0 in a closely contested final match.
Home Team KIIT/KISS won the bronze medal by beating Sambalpur 4-0 in the 3rd/4th place match.
Over 500 players from 30 teams participated in the championship. The tournament also saw the participation of players from 28 districts across Odisha which is unprecented in Odisha Hockey History.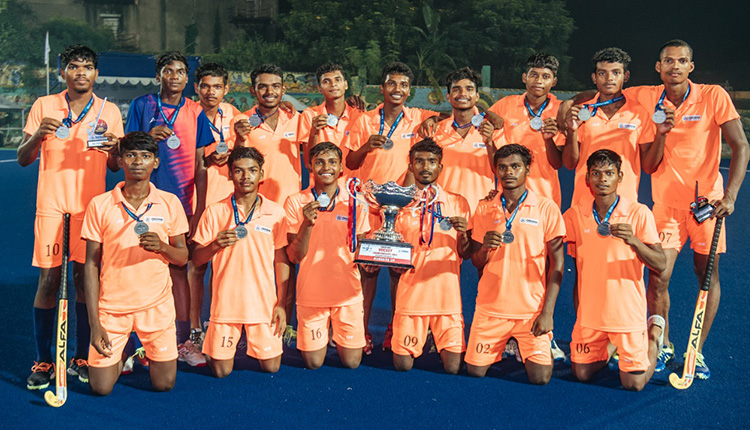 The final day also saw the distribution of some individual awards.
1. Best Goalkeeper – Milan Bhuyan, Sundargarh
2. Best Defender – Salim Kula, Deogarh
3. Best Mid-Fielder – Asit Lakra, Deogarh
4. Best Forward – Amrit Dung Dung
5. Player of the Tournament – Premchand Horo, Sambalpur
Guests for the finals included Olympians Shri Lajrus Barla, Smt. Lilima Minz, Smt. Sunita Lakra, officials from Sports and Youth Services Department Shri Sidhartha Sankar Sahu, OAS, OSD, Shri Sailendra Kumar Jena, Joint Secretary to Government, and Dr. Gaganendu Dash, Director General, Sports and School of Yoga, KIIT University.
Speaking on the Finals result, President of Hockey Association of Odisha and Chairman of Hockey Promotion Council, Shri. Dilip Tirkey said, "Congratulations to Sundargarh for becoming the first champions of the Hockey Association of Odisha Junior Men Hockey Championships. They have added to the many accolades that Sundargarh has provided for Odisha Hockey. We will continue to host such tournaments that can enable players to showcase their talent and help develop the game."
"I would like to thank the Department of Sports and Youth Services, Government of Odisha for their support and guidance without which this tournament would not have been possible. I would also like to like Mr Achyutha Samanta, MP, Founder, KIIT University for being such a gracious host and for providing the best facilities for the comfortable stay of the players during the tournament. It is the support of such stakeholders that has enabled the Hockey Association of Odisha to conduct one of the best State Level tournaments in hockey to date."
The selected players from the tournament will be called for a State Hockey Camp that would make up the Odisha State team competing in the Hockey India National Championships in 2023.