Bhubaneswar: A team of 11 senior officers including 7 IAS officers from Madhya Pradesh were on a three-day (25th to 27th Sept 2023) exposure visit to Odisha.
According to an official press release, the three-day long visit was organized by Odisha Urban Academy (OUA) and was intended to provide learning and exposure to the visitors on Odisha model for Faecal Sludge and Septage Management, Solid Waste Management and Urban-Rural Convergence in sanitation under 5T initiative.
On the 25th, the first day of the visit the delegation had an orientation programme in OUA.
Speaking on the occasion G Mathivathanan, Principal Secretary, Housing & Urban Development (H&UD) enlightened them on urban transformation in Odisha, presented an overview of different Urban Sanitation and water initiatives, missions and programs in Odisha, and the emerging challenges of re-use of harvested biosolids.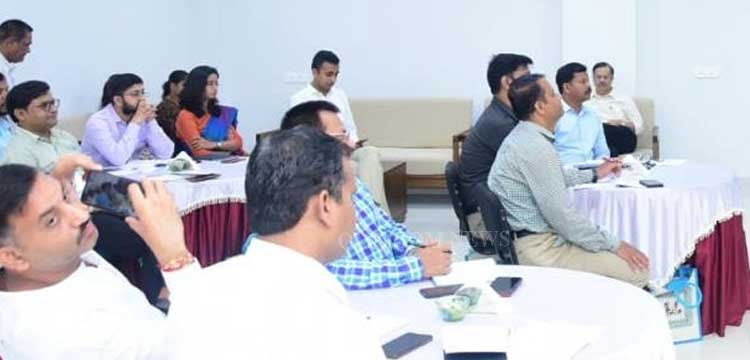 Odisha is known for its pioneering Faecal Sludge & Sepatge Management (FSSM), especially decentralised community-led inclusive sanitation in the country. The State has built 118 faecal sludge treatment plants (FSTPs)/sewage treatment plants (STPs) across all 115 ULBs. The State-wide roll-out of convergence of rural & urban sanitation is currently underway, he added.
He further pointed out the role of Odisha Urban Academy in strengthening the capacity-building ecosystems in water, sanitation and inclusive urban development space.
Director Municipal Administration -cum-Mission Director SBM Sangramajit Nayak made a detailed understanding of the various people-centric programmes, FSSM value chain, Garima, the Dight platform and initiatives for urban-rural convergence being implemented in the State.
Among others, Additional Secretary  Durgesh Nandini Sahoo, Director Drinking Water & Sanitation B Parameswaran and others interacted with the delegates on various issues.
Following the meeting, the delegation visited the Odisha Urban Academy and the FSTP in Basuaghai, Bhubaneswar. On 2nd day after visiting some wealth centres in Bhubaneswar, the delegation proceeded to Jatani, Konark NAC on a field visit and interacted with locals & NAC officials. The next day the delegation visited the water treatment plant in Puri and held discussions with the officials.