Bhubaneswar: It is a matter of pride for the State as an Odia girl, Madhusmita Patra of Berhampur has scaled the highest peak in the African continent, Mount Kilimanjaro.
Madhusmita, a native of Gosani Nuagaon reached the peak of Mt Kilimanjaro at 7:05 am (India time), on February 13. She hoisted India's National Flag atop the mountain and stayed there for a while, before returning to the base camp.
Madhusmita is the daughter of an army officer Premanand Patra and his wife Pushpanjali, and works with TCS in Chennai. She will be returning home on February 17. Madhusmita's flight is scheduled to land at Bhubaneswar airport at 10 am, said family sources.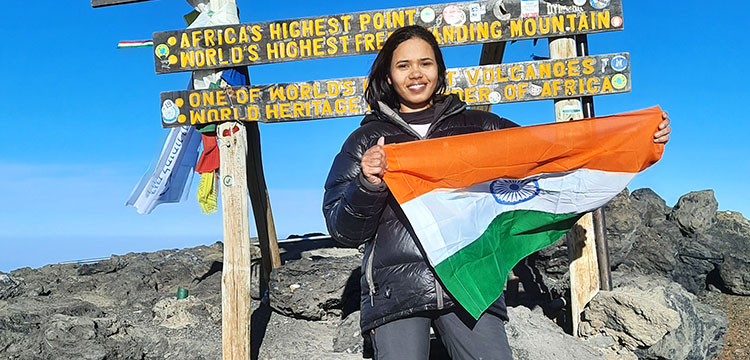 Madhusmita is a trained mountaineer, who underwent a professional course in 2022 at the Himalayan Mountaineering Institute (HMI) in Darjeeling. In the past, she has scaled Mount Renak, Chadar, and Kedarkant reports stated.
On February 5, Berhampur MP Chandrasekhar Sahu, MLA Bikram Panda and Mayor Sanghamitra Dalei handed over the tricolour to Madhusmita and wished her luck for the expedition.
She trekked for 5 to 7 hours in a day and rested at camps till she made it to the base camp of Mt Kilimanjaro on February 12. After taking some rest at the base camp, the talented and young Odia mountaineer proceeded towards her destination – the peak, along with her guide.
The last leg of the journey was extremely arduous as it started in midnight when the temperatures are gruellingly low and the atmospheric pressure ascending fast, restricting mobility.
However, all the impediments were futile before Madhusmita's grit, and she stood tall atop Tanzania's Mount Kilimanjaro (5,895 metres high) – proudly with the national flag.